ONE TIME SPECIAL OFFER...

We have a very nice "short section", flawless, top quality tube. This tube is beautiful, strong, and light.....
11.84" ID x 0.1" wall x 8.375" long.
Tube weight 2.6 lbs
$93.25 + $15.00 Shipping CONUS
This tube is not flocked so the tube interior will require painting or flocking. Internal painting available for $25.00.
One Time Special Offers on Surplus Carbon Tubes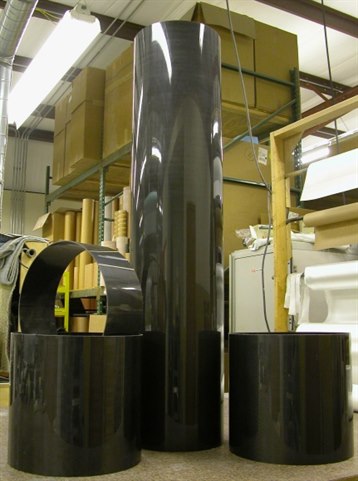 Cut-offs, over-runs, and plain 'ol goof-ups!
About the stuff on this Surplus page......

Don't worry, we won't sell any tubes with structural defects!

We would never sell any tubes with any structural defects of any kind. We just don't roll that way! (Pun intended)

The tubes on this page are top quality carbon. The reason they are here is because we either made a tube extra long and ended up with a large cut-off or the ID/OD are just a bit off from what we planned for.

Once in a great while, there may be a tube with a cosmetic blemish of some sort but that is pretty rare. And if this is the case, we will let you know in the write-up, otherwise you can expect a premium quality tube with a premium quality finish.
New 10.15" ID tube in stock now!

10.15" ID x 61" long x 0.10" wall Carbon tube.
Tube exterior is our usual premium clear-coat. Interior can be painted flat black for you upon request (at no extra charge).
You can buy the tube at it's current length or we can cut it to size for you.

Price for this tube is $995.00 plus $75.00 shipping CONUS.